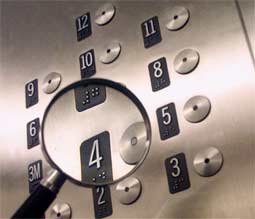 Astro Turf
Astro Turf is a sound composition. It was presented
as an installation at Art in General, New York in 1999
as an elevator project.

Astro Turf was also part of CYNETart 2000 in Dresden, Germany,
where it received a honorary award. In 2000 it was presented at Sonic Residues at the Center
of Contemporary Arts in Melbourne, Australia and in 2000
it was presented at CEAIT 2000 - Concerts in Music, Experiments in Art
and Technology at California Institute of the Arts, (Calarts), US.
In 2001 it was part of Micromuseum a traveling exhibition in Greece,
Slovenia, Germany and France.
Astro Turf was part of the cd release Citizen Band Issue, no 3 at
Vibro in Paris in 2007.